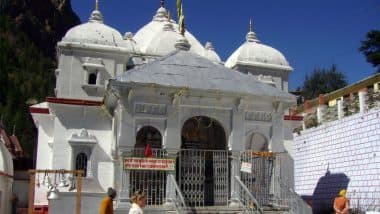 Gangotri Dham (Photo credit: Wikimedia Commons)
New Delhi, May 15: The doors of Gangotri Dham were officially opened at 3.31 am on Saturday, the auspicious time of Baishakh Shukla Tritiya. On Friday, the idol of mother Ganga Vhog reached Bhairan valley. Mother Ganga Dolly left for Gangotri Dham at 4 am on Saturday. On this occasion, mother Ganga is prayed for and welfare of the people is wished. It is noteworthy that the doors of the Dham are symbolically open due to the suspension of the Chardham Jatra. Only those involved in the puja tradition are allowed to visit the dhams. Worship in Dhamas will continue on time. Corona's rescue standards were followed while opening the valve.
On this occasion, some members of Sri Gangotri Mandir Samiti, sub-divisional officers, special officers of Uttarakhand Chardham Devasthanam Board of Directors were present. Earlier, the doors of Shri Jamunotri Dham have been opened and the doors of Kedarnath Dham will be opened on Monday, May 17. Kedarnath will reach Lord Kedarnath's five-faced dolly on Saturday. While opening the doors of Gangotri Dham, state Chief Minister Tirath Singh Rawat said that the Chardham journey has been postponed due to the Corona epidemic. If the situation is normal, then the journey to Chardham will start. Fans pray in their homes. Read more: Why do boys prefer smaller girls? The University of North Texas survey report came as a shock
Dr. Harish Gaur of Devasthanam Board informed that the doors of Shri Badrinath Dham are being opened on Tuesday 16th May. After opening the doors of Madar He Shwar Zia in the second Kedar on May 24 and Tungnath G in the third Kedar and Rudranath G in the fourth Kedar on May 17. At the same time, the opening date of Shri Hemkund Saheb and Shri Lakshman Temple has not been fixed yet.
Earlier on Friday, the doors of Yamunotri Dham were opened on the occasion of Akshay Tritiya. Abhijit opened the door of Dham at 12.15 pm. On Friday morning, Shri Yamunotri Chalvigraha Dolly departed from the winter throne Kaddali (Khushamath). Younger brother Shanidev Maharaj reached Jamunotri Dham to see them.