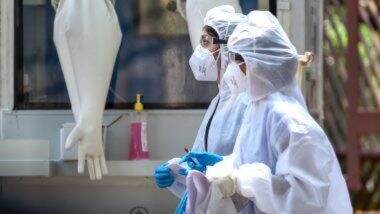 Symbolic image (Photo credit: PTI)
New Delhi: With the arrival of 1,32,364 new cases of coronavirus in the country in a single day, the total number of cases has risen to 2,7,74,350, and the recovery rate from the infection has exceeded 93 percent. Union Ministry of Health (Union Ministry of HealthAs of 8 a.m. on Friday, the death toll had risen to 3,40,702 after the death of 2,71 patients in the last 24 hours, and the number of people being treated on the fourth day was less than 2 million. Corona Update: In the last 24 hours, 1 lakh 32 thousand new corona cases have been registered in India, more than 2 thousand people have died.
The ministry said a total of 20,75,428 tests were taken on Thursday, bringing the total number of Covid-19 tests in the country to 35,74,333,466. The daily infection rate was recorded at .3.38 percent. This rate has been recorded at less than 10 percent for 11 consecutive days.
The weekly infection rate has come down to .2.27 percent. The number of patients treated in the country has increased to 1,35,993, which is 5.733 per cent of the total infection and the national recovery rate from Kovid-19 is 93.06 per cent.
A total of 77,720 cases of Covid-19 have been reduced in the last 24 hours. The number of people who have recovered is higher than the number of people who have been infected for the 22nd day in a row. The total number of people who have recovered so far stands at 2,65,97,6555 and the death rate from infection is 1.19 percent.
The number of infected people in the country exceeded 2 million in August-August last year, 3 million on August 23 and more than 4 million on September 5 last year.
At the same time, the total number of cases of infection has gone up from September 1 to September 50, from September 26 to Rs 1 million, from October 11 to Rs 7 million, from October 29 to Rs 60 lakh and from November 20 to Rs 90 lakh. On December 19, these cases exceeded one crore in the country and on May 4, these cases exceeded two crore.
(This is a monitored and automatically generated story from a syndicated news feed, probably not edited or edited by the latest staff)