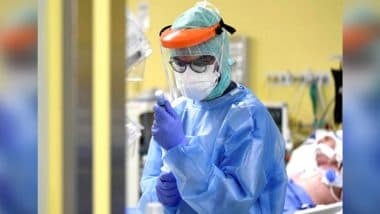 Symbolic Image (Image Credit ANI)
Aurangabad: Out of a total of 1,604 villages in Maharashtra's Nanded district, 1,179 have been free of coronavirus, while another 271 villages have not had a single case of infection during the second wave of the epidemic. An official said this information. So far, more than 90,000 cases of Kovid-19 have been reported in Nanded district and 1,700 people have died due to the infection. Maharashtra 5-level unlock plan: Maharashtra govt announces lockdown ban to be relaxed under 5-level unlock plan from Monday
According to a district official, Nanded has 1,60,004 villages in 116 tehsils. Of these, 1,199 villages were free of Kovid-19 and not a single case of infection was reported on June 4. In addition, not a single infection was reported in 2,271 villages during the second wave of the epidemic.
Nanded District Council CEO Barsha Tagore blamed this encouraging situation for the collective work.
He said, "Gram Panchayat, Panchayat Samiti, Zila Parishad members, Anganwari workers, Zila Parishad and Zila Parishad Health Department workers all worked together to break the fear of infection. The villagers contribute by following the protocol.
"But the epidemic is not over yet and the villagers should be more vigilant," he said. Of the 2,271 villages in the district where not a single case of infection has been reported, 711 villages fall under the indigenous Kinwat tehsil. Huh.
Another official told PTI, "The tehsil is surrounded by the Javatmal district of Maharashtra and the Adilbad district of the adjoining state of Telangana where there have been many cases of infection in the second epidemic."
(This is a monitored and automatically generated story from a syndicated news feed, probably not edited or edited by the latest staff)