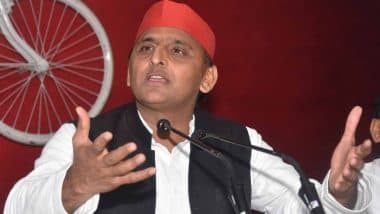 Iconic Image (Photo Credit: IANS)
Lucknow: SP chief Akhilesh Yadav has taken a U-turn after Samajwadi Party (SP) founder Mulayam Singh Yadav installed the corona vaccine. On Tuesday, he wrote in a tweet that his tone seemed to have changed. He said he was against the BJP's vaccine, but would get the vaccine from the Indian government.
Akhilesh Yadav wrote that in the face of public outrage, the government has finally announced that the corona vaccine will be used instead of politics. We were against the BJP's vaccine, but in welcoming the Indian government's vaccine, we will also vaccinate it and appeal to those who could not do so due to lack of vaccine. Read more: Congress leaders Shashi Tharoor, Manish Tewari and SP chief Akhilesh Yadav raise questions about COVD-19 vaccine, make big allegations against Center
SP patron and former defense minister Mulayam Singh Yadav took the first dose of anti-coronavirus vaccine at Medanta Hospital on Monday. Mulayam Singh Yadav tested positive for corona a few days ago. He went to Medanta Hospital to get his health checked from time to time. His arrival on Monday became the topic of discussion on the internet media.
Samajwadi Party patriarch Mulayam Singh Yadav praised the BJP for getting the vaccine and at the same time advised the SP. Akhilesh Yadav has apologized for spreading rumors by reminding him of his comments on the vaccine.