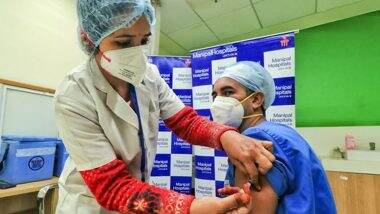 Icon (Image Credit: File Image)
New Delhi: The government said on Tuesday that the decentralized model of vaccination had been under review since its implementation began on May 1 and that it had been decided to re-centralize it after several states' requests and detailed discussions. Opposition groups called for the beleagured PM to resign. Prime Minister Narendra Modi on Monday announced that the Center would adopt state procurement quotas and provide free vaccines to those under the age of 18 in those states. Read more: Corona vaccination: Central government instructs states to stop immunization in private hospitals
Asked if new immunization guidelines have been issued following the Supreme Court's intervention, NITI Commission member (health) VK Paul said, "We respect the Supreme Court's guidelines and concerns, but the government was evaluating the implementation on May 1 from a decentralized model.
Paul said that in the last one month, 12 states, including Maharashtra, Kerala, Sikkim, Rajasthan, Jharkhand, Orissa and Andhra Pradesh, had requested that vaccines be centralized so that the program could be implemented smoothly. Paul said that such decisions are not made "overnight" and that the new guidelines are based on consultation, analysis, feedback and experience with various stakeholders.
Referring to the new guidelines, Paul said states want to be involved in implementing and achieving these programs and can also achieve flexibility for priority groups. He said, "With this in mind, a mechanism was put in place to speed up vaccination and under this it was decided in May that 50% of the vaccine would be collected by the center and 50% by the state and private sector."
He assured that the new guidelines would help move the vaccination program forward.
Regarding the epidemic situation, Paul said that the decline in new cases was due to discipline and social behavior. He said there is discipline at all levels of central and state and local government. Now we will go to a critical stage because the restrictions are gradually being reduced so that the cases do not escalate again, so we need to follow the appropriate covid behavior.
Health Ministry Joint Secretary Lav Lav Agarwal said there has been a 799 per cent drop in new cases every day since May reached its peak. In the context of the second wave of cobwebs, he said, there is an uninterrupted and rapid decline in new cases every day. Agarwal said that the number of coronavirus infections per one million population in India
There have been 20,822 cases and 252 deaths, one of the lowest in the world.
The government insisted on following proper COVID practices until the population was vaccinated so that no more corona waves would occur in the future. The government also insisted on avoiding overcrowding for months. However, in view of the declining number of new cases, some states have announced to relax the locks.
Randeep Guleria, director of the AIIMS, said: "We need to follow proper COVID practices until a significant portion of our population is vaccinated. He said there was no evidence to suggest that the next wave of COVID would affect children more.
(This is a monitored and automatically generated story from a syndicated news feed, probably not edited or edited by the latest staff)