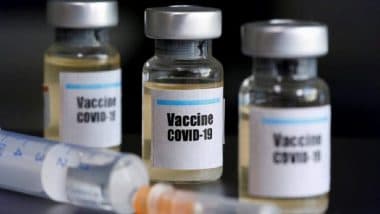 Coronary Vaccine (Photo Credit: PTI)
Beijing, May 5: The corona epidemic is wreaking havoc in many countries around the world. However, some countries have managed to control the crisis to a large extent with the help of strict measures and vaccinations. The WHO added that one needs to be vigilant to end the threat of the virus. In addition, the work of vaccination should be expedited. However, there are countries like this, either there are not enough vaccines available or the citizens are not very interested in getting this vaccine. If we mention China in this context, it took many drastic measures before the vaccine was introduced. As a result, the Kovid-19 virus is almost completely controlled in China. With this, China has not diminished even after vaccine production. China has not only vaccinated its citizens, but also helped other countries.
It is said that about 280 million doses have been given in China so far. Chinese vaccines are also playing a very important role in the fight against the virus in different countries. The Cyanovac and Synoform vaccines prepared by China, especially for those countries that lack resources, are nothing short of life-saving. At a time when India and other countries are facing new wave of corona epidemics, the need for global cooperation has increased, as the virus does not recognize any country's borders or caste or religion. Capable countries need to come forward in this time of crisis. However, we have seen that Western countries like America, Australia and Canada are collecting a lot of vaccines. But they are not doing anything to help the needy countries. Read more: 3,370 people lost their lives in 3 lakh 2 thousand 315 new cases of COVID in the country in 24 hours
If these large and developed countries lend a helping hand to countries that are suffering from epidemics, the situation could change. Although these countries have started providing assistance amid the growing epidemic in India, they are lagging behind in vaccination. If you give the example of America, after widespread international pressure, it has agreed to lift the ban on raw materials for making vaccines. However, it has millions of doses of additional deposits, which the United States does not agree to give to India or other countries. Clearly, the role of vaccination in controlling the epidemic cannot be underestimated. However, this does not seem possible without international cooperation, because even if the virus survives in one country, the whole world will not be able to sleep in peace. In such a situation, it is better for the developed countries to come forward for help.