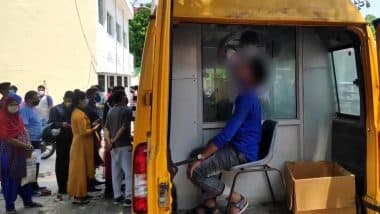 Person checking corona (Photo credit: ANI / File photo)
Mumbai: In Maharashtra, the number of deaths due to Kovid-19 has increased, but the number of new infections has decreased. The total death toll in Mumbai (Mumbai) on Thursday exceeded 14,000. Health officials said. On Thursday, 850 people died in Kovida in the state, compared to 816 deaths on Wednesday. In Maharashtra, 42,582 new cases of Kovid-19 were found, while in Gujarat, 10,742 more infected patients were found.
The situation in Mumbai continues to improve. The level of infection here has come down from three thousand. The number of new cases was 2,104 on Wednesday, down from 1,992 on Thursday. The number of infected people in the city has now risen to 683,185
The death toll in Mumbai on Wednesday was 66 66, which rose to 686 on Thursday. The death toll in the country's commercial capital rose from 13,9722 to 14,040, the highest in any city in the country.
After remaining stable for 11 days, the number of active cases in the state has come down from 546,129 to 533,294. Meanwhile, 54,535 patients have fully recovered. A total of 46,54,731 people have been cured so far.