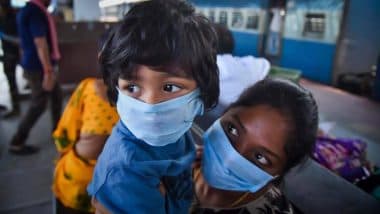 Photo Credit-PTI
Mumbai: On Saturday, 26,133 new cases of COVID-19 were reported in Maharashtra, and 682 people died due to the infection. According to a bulletin issued by the Department of Health, a total of 55,53,225 people have been confirmed infected in the state so far and 87,300 have died. According to him, today the number of cured people in Maharashtra has increased to 51,11,099 and 40,294 patients are free from infection. There are currently 352,277 patients undergoing treatment in the state.
The recovery rate of patients in the state has increased to 92.04 percent and the death rate has increased to 1.77 percent. At the same time, the infection rate has come down to 16.97 percent. Of the 6,882 deaths due to Covid-19, 393 occurred in the last 48 hours and 290 occurred last week, the bulletin said. With 1,263 new cases and 52 deaths in Mumbai, the number of infected people has risen to 99,4883 and the number of deaths from the infection has risen to 14,5116. Read more: 296444 new cases in Corona, 555 patients die, more than 44,000 evacuations in Maharashtra in last 24 hours
On the other hand, after taking another 3520 patients in Pune district on Saturday, the total number of infected people rose to 992436, while after the death of 92 patients, the number of people who lost their lives in the district rose to epidemic 15995. The situation with Kovid-19 in Maharashtra on Saturday is as follows …. …. The total number of people infected so far is 55,53,225; New cases 26,133; The total death toll from the infection was 87,300; 51,11,099 who have been infected so far; Number of patients treated 3,52,247; The number of samples tested so far is 3,27,23,361.
(This is an audited and automatically generated story from a syndicated news feed, most likely not modified or edited by the latest staff)