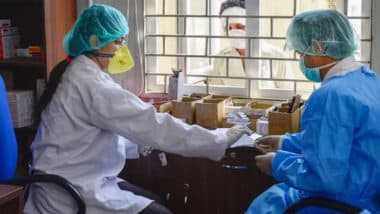 Photo credit: Twitter
New Delhi, May: Of the new cases involving COVID-19 in one day, 71.81 per cent came from ten states, including Maharashtra, Karnataka, Uttar Pradesh and Delhi. According to data released by the Union Ministry of Health on Friday, 4,1,18 new records of coronavirus have reached 2,1,99,998 in a single day in India. Karnataka, Kerala, Bihar, West Bengal, Tamil Nadu, Andhra Pradesh and Rajasthan also have the highest number of cases in the list of ten states. Maharashtra has the highest number of 62,194 new cases in a single day. This was followed by 49,058 new cases in Karnataka and 42,464 in Kerala.
The number of patients infected with Covid-1 under in India has reached 3,455,644 which is 16.96 per cent of the total cases of infection in the country. In the last 24 hours, the number of patients undergoing treatment has increased to 78,766 cases. In India, 71.04 per cent of the total number of patients undergoing treatment are in Maharashtra, Karnataka, Kerala, Uttar Pradesh, Rajasthan, Andhra Pradesh, Gujarat, Tamil Nadu, Chhattisgarh, West Bengal, Haryana and Bihar. Only a quarter of the total patients under treatment are in ten districts. Bangalore Urban, Pune, Delhi, Ahmedabad, Ernakulam, Nagpur, Mumbai, Kozhikode, Jaipur and Thana have 10 districts which are for 25% of the affected patients in the country. Read more: Rajasthan govt buys oxygen from Russia, first shipment to arrive today
"The national mortality rate has dropped to 1.09 percent," the ministry said. 3,915 people died in 24 hours. Of these, .44.48 per cent people died in 10 states. Maharashtra has the highest death toll at 853. 350 killed in Uttar Pradesh The number of people recovering from the epidemic in India has risen to 1,7612,12,331, with 3,311,507 recovering in the last 24 hours. .42.47 per cent of the new recruits are in ten states.
So far, more than 16.49 crore people have been vaccinated against the Covid-19 vaccine in the country. The ministry further said that as per the reports received till 7 am, 1,49,733,057 vaccines have been administered. These include Maharashtra, Rajasthan, Gujarat, Uttar Pradesh, West Bengal, Karnataka, Madhya Pradesh, Kerala, Bihar and Andhra Pradesh. 66.6 percent have been vaccinated.
More than 2.3 million people were vaccinated in the last 24 hours.