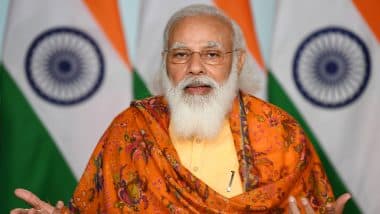 Prime Minister Narendra Modi (Photo credit: PIB)
Lucknow: The situation in Varanasi, the parliamentary constituency of Prime Minister Narendra Modi (Prime Minister Narendra Modi), has improved sharply. Because here, from town to village, together they are trying to stop Corona. The Kashi Kovid Response Center, located in Varanasi city headquarters, is open 24 hours a day. From there Benares and surrounding districts are observed. There are many new initiatives to control corona in cough. Behind them all is Sharma, who has worked in the PMO and is a retired IAS officer of the 198th batch of the Gujarat cadre. AK Sharma, who was elected a member of the Uttar Pradesh Legislative Assembly (MLC) after taking VRS from the central government, is taking over the responsibility of covid coordinator in 20 districts of Purbanchal including Banaras, Gazipur, Jaunpur, Balia, Azamgarh.
Varanasi Commissioner Deepak Agarwal, DM Kaushal Raj Sharma and Police Commissioner A Satish Ganesh's team are working with them to bring down all the corona management arrangements to the ground. Varanasi is a city where the corona investigation report is available in just 24 hours. Although many cities have to wait five to ten days. Preparations for the third wave have also started here on the instructions of the Prime Minister. Seeing the potential for more danger to children in the third wave, work is underway to create a team of pediatricians at the moment. Read more: Uttar Pradesh: Chief Minister Yogi Adityanath Corona reviews affected cities, inquires into situation in Lucknow, Prayagraj, Varanasi and Kanpur
MLC Arvind Sharma, a resident of Mau district in the east, told IANS in a conversation on Wednesday, "The first manual machine in Varanasi could have carried out 5,000 tests a day and it would have taken four to five days to get the report. Power has doubled.Now in Varanasi about 12,000 tests are being done every day, instead of five to five days, 24-hour reports are being received.
MLC Arvind Sharma said oxygen concentrators have also been provided at CHC-PHC level hospitals in Benares and adjoining districts. CSR funding is making arrangements for a centralization. . So far, 582 cubic meters have been sent to 20 districts in the eastern part of the country. For this, a tele-counseling facility called 'Kashi-Kabach' is being run in Varanasi with the help of IMA. The helpless people who can't go out are taking medicine, they are also being given medicine to call their covid control room.
Commissioner Deepak Agarwal said the corona is being managed with a comprehensive plan in Mandal districts including Varanasi. Oxygen plant has been set up in the hospital. Oxygen plants have been set up at Deen Dayal Hospital, Lal Bahadur Shastri Hospital, Ramnagar, ESIC Hospital, Pandepur, Varanasi. At the same time Railway Hospital, Government Ayurvedic College, SSPG Divisional Hospital are being set up at Kabir Chowdhury.
The commissioner said that there are 1412 covid beds in 52 private hospitals in Varanasi. Similarly there are 1033 beds in eight state hospitals including Sir Sundarlal. Thus, public and private hospitals have a total of 2454 coveted beds. A 250-bed DRDO hospital has also been started. DM Kaushal Raj Sharma said the administration was focusing on vaccination. So far 70,000 vaccines have been given. The rate of treatment in private hospitals is also being monitored.