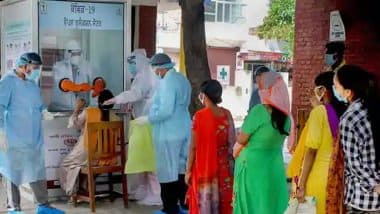 Corona Defeat (Photo Credit: PTI)
Washington, May: According to Johns Hopkins University, coroner cases worldwide have increased by 15.56 million. At the same time, the epidemic has claimed the lives of 32.5 million people. In the latest update from the university on Friday morning, the university's Science and Engineering Center (CSS) revealed that the current global coronary events and deaths from it stand at 155,623,871 and 3,237,435, respectively.
According to the CSSE, the United States has the highest number of cases at 32,603,569 and the worst in the world with 580,054 deaths. Read more: Uttar Pradesh: Nine accused arrested for entering mosque and insulting Maulvi
Other countries with more than 2 million coronaviruses according to the CSSE are Brazil (15,003,563), France (5,789,283), Turkey (4,977,982), Russia (4,799,872), United Kingdom (4,444,259), Germany (4,444,259), Italy (4,8,2,8). 3,491,098), Argentina (3,095,582), Colombia (2,951,101), Poland (2,818,378), Iran (2,610,018), Mexico (2,355,985) and Ukraine (2,152,280). In terms of deaths, Brazil ranks second with 416,949 people.