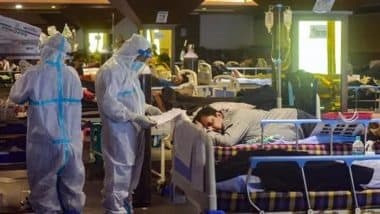 Symbolic image (Photo: PTI)
Imphal, 13 May: Manipur on Wednesday had the highest number of 66 66 new COVID-9 (COVID-19) infections and the total number of infections in the state was 37,0036. An official said this information. He said the disease had killed 117 more people, bringing the death toll in the state to 526.
At least 358 people were cured of the disease in a day, bringing the total number of people cured of the disease in the state to 31,238 so far. In the northeastern states, the recovery rate of coronavirus patients is 84.34 percent. ALSO READ: Video Muzaffarpur, Bihar gave last rites when his loved ones left, performed last rites
At present, 5,272 patients are undergoing treatment in Manipur. So far, 4646,740 samples have been tested for Covid-19 in the state, the official said. A total of 2,72,998 people have been vaccinated in the state so far.