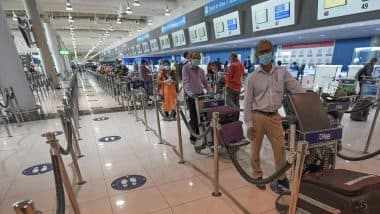 Photo credit: Twitter
Washington, May 10: Worldwide cases of corona have risen to 15.79 million, and 32.8 million people have died so far from the epidemic. According to Johns Hopkins University, this information. In the university's latest update on Monday morning, the university's Center for Science and Engineering (CSC) reported that the current global cases and deaths from this epidemic are 157,946,278 and 3,288,638, respectively.
According to the CSSE, the United States has the highest number of cases at 32,707,359 and 581,752 deaths in the world. ALSO READ: Assam: BJP national president JP Nadda to attend Himanta Bishwa Sarma's swearing-in ceremony
Other countries with more than 2 million cases are Brazil (15,184,790), France (5,838,294), Turkey (5,031,332), Russia (4,824,621), United Kingdom (4,450,578), Italy (4,111,210), Spain (3,567). 3,530,887), Argentina (3,147,740), Colombia (3,002,758), Poland (2,833,052), Iran (2,654,811), Mexico (2,364,617) and Ukraine (2,275,151), followed by Brazil with 422,340 deaths.