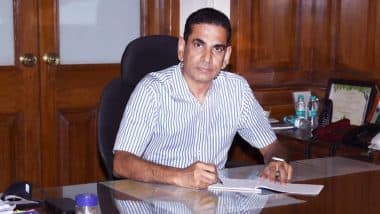 BMC Iqbal Singh Chahal (Photo Credit: ANI)
Mumbai: The rate of coronavirus infection has slowed down in the country's financial capital Mumbai (Mumbai). The total number of infected people rose to 62,102 with the arrival of 2,116 new cases of Covid-19 in the city on Wednesday. Meanwhile, the Brihannumbai Municipal Corporation (BMC) has stopped its campaign to vaccinate people between the ages of 18 and 44 in Mumbai due to lack of vaccines. However, to double the immunization campaign, BMC has issued a global tender for the purchase of one crore vaccines. The shortage of COVID vaccine will be reduced by August, with the Serum Institute pledging 100 million doses per month and India Biotech pledging 76 million doses.
BMC Commissioner Iqbal Singh Chahal (IAS Iqbal Chahal) said on Wednesday that the Brihannumbai Municipal Corporation has issued a global tender for the purchase of one crore vaccines to intensify the fight against the Kovid-19 epidemic. The main objective of this initiative is to vaccinate the people of Mumbai as soon as possible.
Greater Mumbai Corporation today issued a global bid to procure 10 million COVD-19 vaccines to vaccinate Mumbaikars in the early stages of the fight against the COVID virus: Municipal Commissioner IS Chahal

– ANI (@ANI) 12, 2021
"The applicant must have a valid license to import and manufacture the Covid-19 vaccine in India," the tender said. Where the company has to deliver the full amount of vaccine within three weeks from the date of issuance of the work order.
Maharashtra Health Minister Rajesh Top said the state government had temporarily stopped the vaccination campaign for people between the ages of 18 and 44 due to lack of vaccine against Kovid-19 in the state and used doses for vaccination for more than 45 years. Decided to do for the group. However, once the vaccine is provided, the vaccine promotion for the 18-44 age group will be restored.
Vaccination for 18-44 year olds is suspended until further notice. We are sorry for the inconvenience for our young Mumbaikars. Slots of 45 + s will open for bookings after 9pm today # Vaccinated No walk-in allowed tomorrow # MyBMC vaccination update ate

– Majhi Mumbai, your BMC (@MBMC) 12, 2021
The decision was taken at a meeting of the state cabinet. He said the Seram Institute of India (SII) had informed the Maharashtra government that they would be able to supply 1.5 crore covshield vaccines to the state from May 20. Pune's Serum Institute of India develops 'Covishield' vaccine, India develops Biotech 'Covichen' vaccine. Both companies have promised to significantly increase vaccine production by next August.