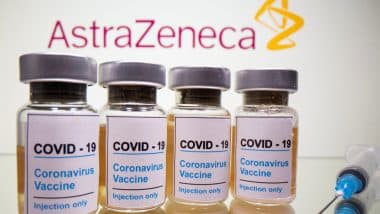 AstraZeneca vaccine (Photo credit: @Wave / Twitter)
Mumbai: An Oxford / AstraZeneca vaccine report has been published amid growing coronavirus and mega campaigns for vaccination. Public Health England (PHE), the executive unit of the UK Department of Health, found in its first 'monitoring data' that two doses of the Oxford / AstraZeneca vaccine were 85-90 per cent effective in preventing the symptoms of Covid-19. The health unit cited "monitoring data" instead of "experimental data" for the first time to know the potential of the vaccine. The time between the two doses of the Covishield vaccine has been extended to 12-16 weeks: Government
"The new assessment, obtained for the first time, found that two doses of the AstraZeneca vaccine provide 85 to 90 percent protection against symptomatic disease," said PHE. The new data indicate the impressive effect of both the dose of the vaccine and its second dose, with the Oxford / Estrogen vaccine providing up to 90 percent protection. "
The Oxford / Estrogener anti-covid vaccine is also being developed by the Serum Institute of India and is being used as a 'covishield' to prevent epidemics in India. The World Health Organization (WHO) in March also called the AstraZeneca vaccine a highly probable vaccine.
Recently, the difference between the first and second doses of Covisild vaccine in India has been increased from 6-8 weeks to 12-16 weeks. Experts claim that this measure is unlikely to have a negative impact on the effectiveness of the vaccine, but may increase the likelihood of the vaccine.
The study, published in the Lancet in March, supports long-term vaccination strategies. It showed that after two standard doses at 12-week intervals, the efficacy of the covsild vaccine was found to be 81.3 percent, with an interval of less than 6 weeks compared to only 55.1 percent. The study, led by a team of international researchers, also claimed that antibodies were more than twice as common in people who received a second dose after 12 weeks. It was found to be twice as high as those who took the second dose at six-week intervals.