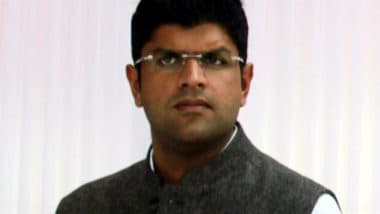 Dushyant Chautala (Photo Credit: IANS)
Chandigarh: On Wednesday, Haryana Deputy Chief Minister Dushyant Chautala warned the people of the state about the 'Toukte cyclone' as it was moving towards the state. An official statement said Chautala urged the people to remain vigilant for the next 48 hours and not to leave their homes.
According to the Meteorological Department, the storm is moving towards Haryana, passing through Gujarat, Rajasthan and winds of up to 50 kmph in most districts of the state from Wednesday to Thursday evening. Read more: Families of cyclone victims will get ₹ 2 lakh compensation, PM Modi announces
Chaitala said all the deputy commissioners have been asked to monitor regularly. He said instructions have been given to take all necessary measures to prevent loss of life and property in any district.