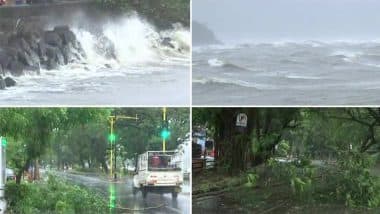 Photo credit: ANI
Ahmedabad: In Gujarat (Gujarat) cyclone 'Cyclone Toukte' killed four people and the devastation spread to the west coast of the state.
The Indian Meteorological Department (IMD) said the cyclone 'broke' and weakened after it hit the Gujarat coast between Diu and Unnar in the solar region at midnight on Monday. It crossed the Gujarat coast as a 'very deadly cyclone' and gradually weakened. Cyclone Toukat: Navy rescues 146 people trapped in storm in Gujarat, many missing
The IMD said it was an 'extremely severe cyclone' in the Saurashtra region near Amarali on Tuesday morning. Officials said the cyclone had wreaked havoc despite being weak. At the same time, Bhawanagar, Rajkot, Patan and Valsad lost their lives in accidents during storms.
The department said in a morning bulletin that the cyclone was located 10 kilometers south of Amreli and about 95 kilometers north-northeast of Dior, with wind speeds ranging from 150 to 175 kilometers per hour and winds down to 135 kilometers per hour. . The IMD said it would move north-northeast and weaken gradually over the next three hours.
"Gujarat and Saurashtra are likely to receive light to moderate rains on Tuesday due to the cyclone. There may also be heavy to very heavy and heavy rains in some remote areas," the department said, adding that wind speeds are also expected to decrease during the day. Four deaths have been confirmed.
An official at the State Emergency Operations Center (SEOC) said three people were killed when walls collapsed at various places due to heavy rains and strong winds. The dead included one each from Rajkot, Valsad and Bhawanagar. Three districts are among the worst affected districts in the state due to the cyclone.
An official of Patan A-Division Police Station said that an electric pole fell on a sleeping woman in Patan on Monday night due to strong winds, killing her. Many coastal areas of Gujarat did not have electricity. At the same time, strong winds knocked down many trees, electric poles, and mobile towers.
(This is a monitored and automatically generated story from a syndicated news feed, most likely not modified or edited by the latest staff)