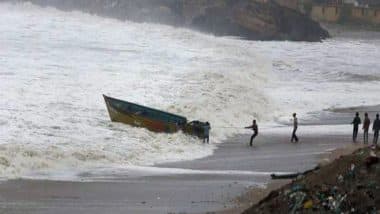 The first cyclone of the year is expected to hit the Arabian Sea. For this reason, warnings have been issued in the southern states centered around Cyclone Toukat. According to the latest forecast from the India Meteorological Department (IMD), Toukat could turn into a 'severe cyclone' from May 17. On Friday, the IMD warned that there could be a cyclone over Lakshadweep and the Arabian Sea in the next 36 hours. Due to this heavy rain may occur in the southern part of the country. The department further warned that a higher severe cyclone could reach the coast of Gujarat by the 18th May. Cyclone Toukat: The NDRF has prepared 53 teams to deal with cyclones in the Arabian Sea.
The Meteorological Department has expressed fears that heavy rains may start in Gujarat from May 1. May 16, 199 on Heavy rain is expected in the solar system and glassy areas. During this time, strong winds can blow at speeds of 50 to 80 kilometers per hour. The meteorological department on Friday issued red alerts in three districts of Kerala and Lakshadweep and five districts in Kerala on Saturday.
IMD has issued a yellow alert in Mumbai and police stations. There is a possibility of heavy rain with strong winds in the area. IMD has issued Orange Alert and Red Alert for many districts of Gujarat and Kerala. A red alert has also been issued for Lakshadweep. Lakshadweep is likely to receive heavy rains in the next 24 hours due to the effects of the cyclone. Heavy rains are also expected in Kerala and Tamil Nadu till May 16.
SN Pradhan, director general of the National Disaster Response Force, said 24 of the 53 NDRF personnel have been deployed in Kerala, Karnataka, Tamil Nadu, Gujarat and Maharashtra in response to the cyclone. 29 teams have been put on standby here.