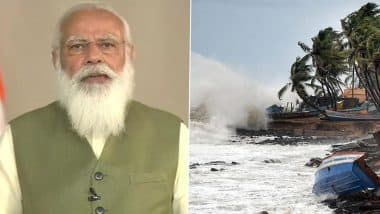 Prime Minister Modi and the cyclone (Photo Credit ANI)
New Delhi: Cyclone Toukatai cyclone has crossed the coast of Gujarat. However, the storm has caused a lot of damage in Gujarat. Prime Minister Modi (PM Modi) will visit Gujarat and Diu on Wednesday to inspect the damage caused by the cyclone. According to reports, the Prime Minister will leave Delhi at 9.30 am and reach Gujarat. From there he will conduct an aerial survey of Una, Diu, Zafarabad and Mahua. After the aviation survey, there will also be a review meeting in Ahmedabad.
Meanwhile, CM Vijay Rupani said in a media briefing on Tuesday that at least three people were killed in the devastation caused by the devastating cyclone in Gujarat on Monday night. Rupani said the administration is fully active in conducting search and rescue operations. The Chief Minister said that we have confirmed the deaths of three people since last night due to the tragic disaster in Gujarat. A 3-year-old child has died as a result of a recent wall collapse. A 70-year-old woman has died in Gariadhar tehsil and another has been reported in Vapi. However, late at night, news came from Gujarat that 13 people had died in Gujarat so far due to obstruction. ALSO READ: Cyclone Toukte Video: Heavy damage caused by cyclone in Gujarat, see how the storm was devastated
Prime Minister Modi to visit Gujarat and Diu today:
Prime Minister Narendra Modi will visit Gujarat and Diu tomorrow to review the situation and the victims. # Cyclone Talk. He will conduct an aerial survey of Una, Diu, Zafarabad and Mahuva regions. He will also conduct a review meeting in Ahmedabad. pic.twitter.com/sYH9MRIAk2

– ANI (@ANI) May 18, 2121
According to CM Rupani, 1,081 electric poles have been uprooted in the districts affected by the cyclone. A total of 159 roads were damaged and an estimated 40,000 trees were uprooted or fallen. Roads and building teams have recovered traffic on 42 roads.
In his statement, the chief minister said, "According to preliminary assessments, about 1.5.5 thousand houses, including slums, have been damaged, but the survey is still going on as the cyclone has not yet moved out of the state." The highest rainfall was 9 inches in Bagsara tehsil (with input agency).