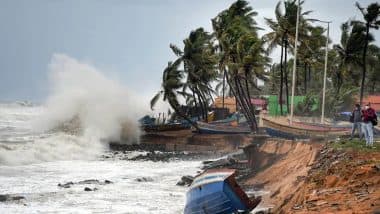 Photo credit ANI
Cyclone Toukat Update: Cyclone 'Takte' has caused strong winds in many districts of Maharashtra, including Mumbai. Due to which there have been a lot of losses due to falling trees in the surrounding districts of Mumbai. At the same time, the storm is moving at wind speeds. The Meteorological Department hopes that the cyclone 'storm' will cross the Maharashtra coast and move rapidly towards Gujarat (Gujarat) and is expected to reach the Gujarat coast by 8 pm.
According to media reports from the Indian Meteorological Department (IMD), the cyclone has turned into a 'very severe cyclone' and is expected to reach the Gujarat coast by evening and pass between 8am and 11am. A possibility. At the same time, more than 1.5 lakh people have been relocated from Gujarat to low-lying areas due to the hurricane. In addition, 54 teams of NDRF and State Disaster Response Force (SDRF) have been deployed to assist the people. Read more: Cyclone Toukte: 'Toukte', severe cyclonic storm, winds of 160 kmph in Gujarat, warning of heavy rains in Maharashtra
Prime Minister Narendra Modi on Monday spoke to the chief ministers of Gujarat and Goa on the phone as they were heading towards Gujarat after Maharashtra due to the storm. During a telephone conversation with the Chief Ministers of the two countries, the Prime Minister assured assistance from every possible center. Speaking to media on Monday, Ahmedabad Meteorological Department scientist Manorama Mohanty said the cyclone was still far from Diu. It will reach the coast of Gujarat by evening and at night it will be 20 km east of Diu and cross the Gujarat coast. The wind speed will be 160-170 kmph when this storm passes through here.
In a media conversation, scientist Mohanty said that Samonath, Junagadh, Amreli and Bhawanagar would be further affected by the cyclone. At this time, Valsad and Nowsari are also likely to receive heavy rainfall. Thus, fishermen are not allowed to enter the sea. (Including input agency)