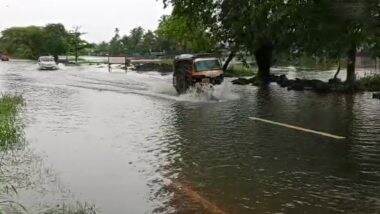 Destruction by Destruction (Photo: ANI)
Panji: Many states are on high alert for cyclone Takt. Cyclone Toukte has taken a great turn and started devastating. Two people died in Goa due to torture. So far more than five hundred trees have fallen here. About 100 large houses and 100 small houses were damaged. Many roads are blocked. Lots of power poles have collapsed in the state, disrupting power supply in many parts. Traffic has been damaged due to falling of many trees. Cyclone Toukte: Chance of very heavy rain in some parts of Mumbai's Konkan – IMD.
Goa Chief Minister Promod Sawant said all roads were blocked. Disaster management team is engaged. Assistance has been provided for that death. Assistance will also be provided to those whose homes have been damaged. The CM said the cyclone had caused a lot of damage in Goa.
Destruction in Goa
Two deaths have been reported in Goa. More than five hundred trees have fallen. About 100 large houses and 100 minor houses were damaged and roads were blocked. Power supply disrupted: Goa Chief Minister Promod Sawant # Cyclone Talk pic.twitter.com/VNZzA8aXuW

– ANI (@ANI) May 16, 2121
Waterlogging has been reported from many parts of Kerala due to the cyclone. Rainfall continues in the state. Waterlogging has occurred in many places in Alapuzha. Water has entered people's homes in the low-lying areas of Mankambu, Thekkara, Vejpara and Puwam.
Waterlogging in Kerala
Kerala: Waterlogging has occurred at several places in Alappuzha due to continuous rains # Cyclone Talk. Access to water bodies in the lowlands of Manakambu, Thekkekara, Vejpara and Puwam pic.twitter.com/hEL5J4 Jauk

– ANI (@ANI) May 16, 2121
Karnataka Minister Shivram Hebbari said one house, 76 fishing boats and 2,271 electric poles were damaged in five areas in Uttara Kannada. One died.
The IMD said the cyclone could intensify in the next 24 hours. It is very likely to cross the Gujarat coast between Porbandar and Mahuva (Bhawanagar district) on the morning of 18 May. IMD has issued a yellow alert for Gujarat and Daman and Diu.
According to the IMD, the storm has turned into an "extremely severe cyclonic storm" and could take a more severe form in the near future. With the onset of cyclonic storms off the coast of Gujarat, winds can reach up to 175 km per hour with very heavy rainfall.