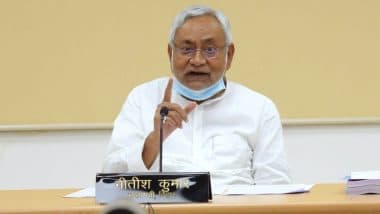 Nitish Kumar (Photo Credit: Facebook)
Patna, 25 May Chief Minister Nitish Kumar (CM Nitish Kumar) held an online meeting with the Disaster Management Department, Coalition Department and all District Magistrates on Tuesday to prepare for the 'Yas' (Cyclone Yas) cyclone and to take all precautions and vigilance. . He told a meeting at his residence that according to the information, the entire state would be affected and the concerned departments and officials would have to regularly monitor the situation and make necessary preparations accordingly. The Chief Minister said that uninterrupted power supply should be ensured in all public and private hospitals so that patients do not face any problem. Also, keep an alternative arrangement in case of power outage. Read more- What kind of ban in Bihar? More than 25 cartons of liquor were seized in Mozaffarpur during the lockdown.
During the meeting, Supriya Amrit, Additional Chief Secretary, Department of Health and Disaster Management, gave a detailed account of the 'Yas' cyclone received by the Indian Meteorological Department. He said that from May 27 to 30, there is a possibility of storms, hurricanes, thunderstorms and rains in the state, in view of which all the district magistrates have been warned. The Departments of Energy, Agriculture, Health, Water Resources, Small Water Resources, Road Construction and Rural Works have been asked to be especially vigilant.
He said the NDRF and SDRF teams were also on high alert to deal with the disaster. Anand Kishore, Principal Secretary, Urban Development and Housing Department and Sanjeev Hans, Secretary, Energy-Cum-Water Resources Department also gave detailed information about the preparations of their department.