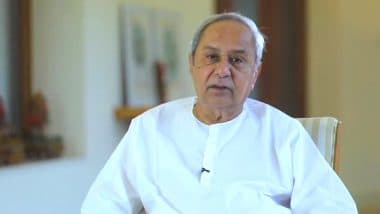 Naveen Patnaik (Photo Credit – ANI)
Bhubaneswar: On Monday, Orissa Chief Minister Naveen Patnaik told the central government that the state was ready to deal with the devastating cyclone 'Yas' (cyclone Yas) that could make landfall near Balasore on May 2. Patnaik made the remarks while talking to Union Home Minister Amit Shah, who reviewed the cyclone situation. "We are fully prepared and our officials are liaising with the central government officials," the chief minister told the Union Home Minister. We will inform you of the requirements.
'
Shah said on Twitter, "I have issued instructions to ensure timely delivery of people living in low-lying areas to safer places, provide power back-up at various hospitals and provide security at oxygen production centers in the state." Read more: Cyclone Yas: Kolkata port will be closed from May 25
The Orissa government evacuated about one lakh people from low lying areas and Balasore, Bhadrak, Kendrapara and Jagatsinghpur districts. These districts are most at risk of cyclones.