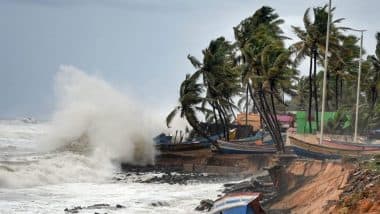 Photo credit: PTI
Cyclone 'Tweet' has already created such genocides in Gujarat and Maharashtra. Then another cyclone is about to knock over West Bengal. Meteorologists have named the storm 'Yes'.
The storm will blow at speeds of 150 to 160 kilometers per hour:
The Meteorological Department has sent a warning to the West Bengal government. It is said that this cyclone could knock out West Bengal from May 26 to May 2. At a speed of 150 to 160 kmph, the storm will hit the coastal region of West Bengal, causing heavy damage.
After receiving a warning from the Meteorological Department, Chief Minister Mamata Banerjee held a meeting with all senior officials at the Secretariat. Instructions are being sent to all the district magistrates regarding the cyclone.
Read more – Cyclone Tauktai: 22 out of 755 missing after boat capsizes in Arabian Sea due to cyclone
Basically, cyclones in Kolkata, Howrah, North and South 24 Parganas, Hooghly, East and West Midnapore could cause huge loss of life. Therefore, all the district administrations have been instructed to take necessary steps ahead of time to reduce the damage.
In 2020, Hurricane 'Amphan' gave a design:
It is noteworthy that Hurricane Amphone hit the state in 2020, affecting five lakh people. These storms can be that deadly. The state government had largely failed to manage Amphon. Therefore, this time there is no need to face any situation, it is already preparing for it.
The name of the 'yes' cyclone was already decided:
I would like to say that 'Tute' is the first cyclone of this year. Myanmar has given this name to the storm this time. 'Tweet' means a loud-playing lizard. In fact, every time a storm blows, different countries give it a name. Similarly, the name of the next storm will also be decided. The storm has been named 'Yes', which can knock in Bengal from May 26 to May 27. Oman gave this storm its name. There have been many other types of storms before, some of which were named – Burebi, Nisarg, Gati, etc.
Also read- Country News. Cyclone Toye: Shah talks to Maharashtra, Gujarat, Rajasthan CM
How is a cyclone named?
In fact, a global panel is working to name the cyclone, named 'World Meteorological Organization / United Nations Economic and Social Commission for Asia'. The panel includes 13 countries, including India, which also issued guidelines on storms. Besides India, it includes Bangladesh, Maldives, Myanmar, Oman, Iran, Pakistan, Sri Lanka, Qatar, Thailand, Saudi Arabia, UAE and Yemen. One of the reasons behind naming this storm is that it can remind you of a cyclone. In addition, it helps the administration to provide accurate information to the people. A new list of names was created last year, where four names have already been used. The fifth name on this list is 'Tweet'.