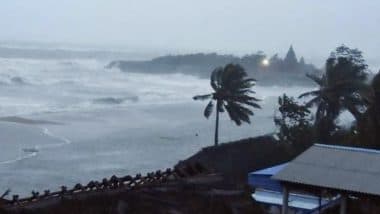 Hurricane / Symbolic Photo (Photo Credit: PTI)
Patna: Due to the impact of cyclone Yas in Bihar, light to moderate rains lashed various parts of the state on Thursday, with air and rail traffic damaged on Thursday. Due to heavy rains in Patna city due to the cyclone, the airport was closed in the evening. Airport director Bhupesh Negi said four flights had been canceled due to the suspension.
He tweeted that due to cyclone 'Yas', considering the weather conditions, it was decided that flights from Patna airport would be suspended till 9 am on Friday, May 26. The situation will be reviewed before a decision is made on resuming activities.
The Eastern Central Railway (ECR) has temporarily canceled the operations of some special trains in the wake of cyclone 'Yas'. ECR chief public relations officer Rajesh Kumar said a total of 15 such trains had been canceled. Read more: Cyclone Yas: Chief Minister Mamata Banerjee on the devastation caused by the cyclone – loss of 15 thousand crore rupees
Ananda Shankar, director of the Patna Meteorological Center, said the severe cyclone 'Yas' had weakened after it crossed the Orissa-West Bengal coast on May 2. At present it is located above Jharkhand and Bihar as low pressure areas. It is expected to weaken further and move north-west. On Friday, it will change to Bihar and adjoining eastern Uttar Pradesh as low pressure areas.
He said that due to the seasonal effect of this depression, there is a possibility of light to moderate rainfall in the state in the next 48 hours. Where heavy rainfall is forecast in one or two places. At this time, the maximum wind speed will be 30 to 40 kilometers per hour.
In addition, there is a possibility of thunderstorms in the south and east of the state and some parts of the central part of the state in the next 24 hours. Shankar said rains could lead to waterlogging or flooding in the low-lying areas, so citizens of the state are advised to take appropriate precautions.
(This is a monitored and auto-generated story from a syndicated news feed, most likely not modified or edited by the latest staff)