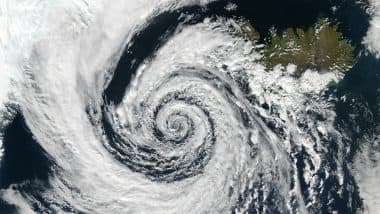 Cyclone Eye Symbolic Photo (Photo Credit: Pixabay)
New Delhi: Severe cyclone Yas has moved from north to northwest at a speed of about 10 kmph in the last six hours. By early morning on Tuesday, it had become centered in the eastern central and adjoining western central Bay of Bengal (Bengal). According to an advisor to the Indian Meteorological Department (IMD) of the Regional Special Meteorological Department, the cyclone is located about 320 km south-east of the peninsula, 320 km south-east latitude and 6.6..6 degrees east longitude. It is 420 km south of Digha and 470 km south of Khepupara.
According to Adviser (Pubaruman), it is likely to move from north to northwest in the next 12 hours and is likely to turn into a very severe cyclonic storm. The cyclone is expected to move north and west by dawn on May 26, intensify to the northwest, near the Bay of Bengal coast and reach the port of Dhamra from Chandbali in West Bengal by May 26.
As a very severe cyclone, Yas 22 is expected to cross the coast of North Orissa, West Bengal between Paradwip and Sagar Islands near Balasore on the afternoon of 26 May.
The cyclone's most sustainable wind speed system is estimated to run from 55 nautical miles around the center to 65 nautical miles. Sea conditions are rough, much worse than rough, and the estimated central pressure is 982 hpa (hectopasical pressure unit).
The advisor said, "The clouds are arranged in a curved band format according to the 25 May 0000 UTC-based satellite imagery. The intensity of the system is described as T3.5. Broken low and medium clouds with very intense convection 12.5 ° north and 19.5 ° and 82 ° east and Is embedded in the region between 90 ° east latitude.The lowest cloud top temperature is 93 সেন্ট C.
The consultant said the Madden Julian Assumption (MJO) index is currently in the 5th to 5th level with the magnitude of the amplitude. After that, in 6 to 8 steps it will proceed with less than 1 step. MJO is conducive to the growth of vehicles in the Bay of Bengal (BOB).
The possibility of tropical cyclone heat occupies a major part of the Bay of Bengal, and to the north and south Orissa, along the coast of West Bengal, is declining slightly.