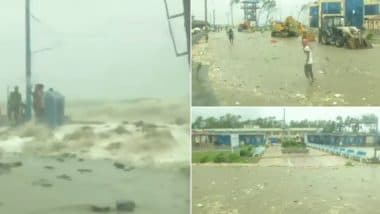 Hurricane Yas Defeat (Photo Credit: ANI)
Kolkata / Balasore / Digha, 26 May As soon as the 'Yas' hit the coast at around 9 am on Wednesday, the effects of the severe cyclone began to be felt in northern Orissa and adjoining West Bengal where winds of 130-140 km per hour were blowing during this period. Officials said the cyclone reached 50 km from Balasore, near Dhamra and near the Bahnag block of Orissa's Bhadrak district. According to Doppler radar, this time the wind moves at a speed of 130-140 kilometers per hour. Orissa Special Relief Commissioner (SRC) PK Jenna said, "The cyclone is expected to end by 1 pm. Balasore and Bhadrak districts will be the worst affected."
Jenna said the sea conditions would remain tense until Thursday and the rains would continue. He said the wind speed would decrease by evening and the cyclone would move from Orissa to Jharkhand by midnight. 5.60 lakh people have been evacuated from sensitive areas of Orissa and 1.5 lakh people have been shifted to shelters in West Bengal.
Jenna said trees were uprooted in a few places during this time, but no major incidents occurred. Chief Minister Mamata Banerjee has said that most parts of the state have been damaged by the cyclone and it has caused rains there.
Also read- Country News. The coastal districts of West Bengal are flooded due to WAS
He applied to stay within the state of East Midnapore, South Twenty Four Parganas, North Twenty Four Parganas, West Midnapore, Howrah, Hooghly, Purulia and Nadia. The Chief Minister said, "Almost the whole of West Bengal is flooded. Several dams have collapsed and areas like Sagar and Gosabar in South 24 Parganas and coastal areas of Mandarmani, Digha and Shankarpur in East Midnapore have been flooded, causing extensive damage in low-lying areas. Banerjee, who monitored the situation overnight from the Secretariat, said the huge tide had exacerbated the problems.
He said efforts were being made to evacuate more people from the coastal areas of Digha. Digha is bounded by the district of Balasore in Orissa. Banerjee said the km0 km dam in East Midnapore was damaged, while 15 dams in the south-south 24 parganas were damaged. He said there were reports of floods in Joynagar, Basanti, Kultali, Namkhana and other areas of the South 24 Parganas district.
The Chief Minister said that although no bridges were reported damaged in Kolkata, they were closed as a precautionary measure.
"The process of reaching the cyclone will take four to six hours, so we will monitor the situation," he said. The West Bengal government has set up a central control room in the state secretariat and a few small control rooms along the coast. Region. Winds at 90 kmph were seen at Digha in East Midnapore, 686 kmph at Frazerganj in South 24 Parganas and 622 kmph at Kolkata. In the last 24 hours till 8:30 am, Digha received 5.5 cm, Diamond Harbor 3.3 cm and Haldia 3.2 cm. Kalaikunda received 2.2 cm of rain.
Read more- Cyclone Yas: Severe cyclone Yas in Orissa Landslide process is over, flood-like situation in many areas
Banerjee said the National Disaster Response Force, the State Disaster Response Force and at least 200,000 police were working together to deal with Yas. The army has also been kept ready and will be deployed if necessary. Umashankar Das, a scientist with the Bhubaneswar Regional Meteorological Department, said it had rained in most parts of Orissa. Chandbali (2.3 cm) in Bhadrak district received the highest rainfall in the last 24 hours in the state. After that, Paradip (19 cm), Balasore (5.1 cm) and Bhubaneswar (4.9 cm) received rain.
(This is a monitored and automatically generated story from a syndicated news feed, most likely not modified or edited by the latest staff)