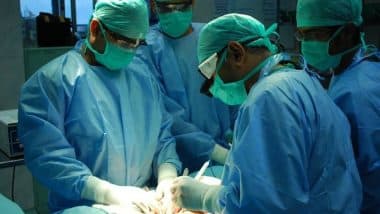 Photo credit: Facebook
New Delhi: The coronavirus is wreaking havoc in the country, but in the midst of all this, a woman in a Delhi hospital donated her organs even after her death.Organ donation) Saved four. Although the woman suffered from high blood pressure, she did not have a coronary heart disease. In fact, Najafgarh (May 20) is at Sir Ganga Ram Hospital in DelhiNajafgarh) The 43-year-old woman was admitted to the emergency ward of the hospital on charges of vomiting and headache. Delhi Unlock: CM Arvind Kejriwal's big announcement, construction activities and factory opening order in Delhi from May 31
The woman admitted to the hospital continued to deteriorate, then, when examined by the doctors at the hospital, it was found that the woman had a brain hemorrhage, despite doctors trying to save her, the woman was declared brain dead late on May 21st. Done.
The family was completely torn apart after the woman's death, she was the only sister of seven siblings and left a 21-year-old son and husband. At the same time, after the woman's death, family members, after consulting with each other, decided to donate the woman's organs. So that other serious patients can be given life.
The Chairman of the Department of Surgical Gastroenterology and Liver Transplantation at Sir Ganga Ram Hospital, Dr. N im mish n. Mehta said, "There is a huge waiting list for cadaver organs and the rate of organ donation has been significantly reduced by the Kovid epidemic. Sir, Ganga Ram Hospital across the country is currently waiting for 179 cadaver liver and 484 cadaver kidney transplants."
"The rate of organ donation in India ranges from 0.65 to 1 per million population, in Spain it is 35 PMP and in the United States it is 2 PMP." A team of doctors led by Dr. Mehta observed the organ. At the same time a liver transplant was performed in a 58-year-old man who had been waiting for more than 2 years.
The other organs obtained from the dead woman were two kidneys and a heart. However, a kidney was transplanted at Sir Ganga Ram Hospital and the rest of the organs were sent to other hospitals in Delhi NCR.
Dr. Mehta added, "We have been able to perform life-saving surgery such as transplantation in our separate non-covid branches with due diligence and strict infection control during this epidemic, thus reducing the chances of cross-infection."
Dr. DS Rana, Board of Directors, Sir Ganga Ram Hospital, said, "Our hospital has always been at the forefront of organ donation awareness programs and we have created a separate portal for those who want to mortgage their organs after their death."
Dr. Rana thanked the family for this great work by the deceased woman and her family.