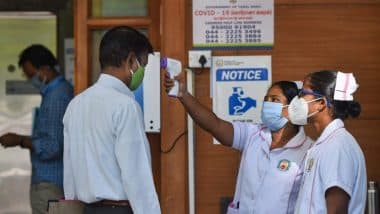 Symbolic image (Photo: PTI)
New Delhi: GB Pants Hospital in the capital Delhi on Saturday issued a notice to its nursing staff not to use Malayalam language while working with its nursing staff saying "most patients and colleagues do not know the language". The reason is difficulty. The hospital said all nursing staff were instructed to use only Hindi and English for communication, otherwise serious action would be taken.
In the notification, GB Pants Hospital in Delhi instructed all nursing staff to use only Hindi and English for communication and warned against the use of Malayalam language.
Withdraws hospital order:
The Govinda Vallabh Pant Institute of Postgraduate Medical Education and Research in Delhi withdrew a notification directing the nursing staff to communicate only in Hindi / English and to ban the use of Malayalam language. The Hope administration said the notice was issued without their information. https://t.co/q0i6gMqO0o

– ANI (@ANI) June 6, 2021
After arguing over the whole matter, the hospital has now withdrawn the order within twenty-four hours. Delhi Health Minister Satyendra Jain asked the hospital administration to withdraw the order. The MSK of GB Pants Hospital has also been notified to issue such an order on behalf of the Delhi government.
The hospital administration said the nursing staff had received complaints that they spoke their local language, Malayalam. The complainant said it made it difficult for patients to understand their point of view. In this complaint, the hospital issued a notice warning to take action against the use of language other than Hindi or English.
Congress President Rahul Gandhi protested the issue on Twitter and wrote, "Malayalam is Indian like any other Indian language. Stop language discrimination!" Congress leader Shashi Tharoor termed the notification as offensive and a violation of the basic human rights of Indian citizens.