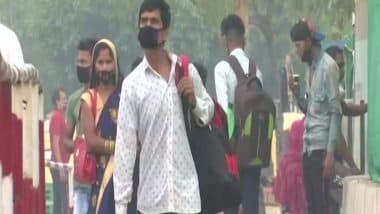 Migrant Workers (Photo: ANI)
Delhi: As coroner (Covid-19) cases are declining in the capital, the Delhi government has also started the process of unlocking. Only construction companies and industries are allowed to open in the first phase of the unlock process. Under such circumstances, migrant workers have started returning to Delhi again. Migrant workers in their hometowns have now returned to the city for work due to the lockdown. Speaking to ANI, the man said that they went to their house at the beginning of the lockdown, but now they are returning after starting the unlock process. Cavid-19: In the second wave of Delhi's Corona, 2424 doctors have died so far, with the highest death toll being 109.
Migrant workers said the situation is very bad because of Corona, there has been no work for about 1 year and now it has become difficult to survive without work. Workers hope the market and all companies will be open soon and their lives will be back on track.
Staff looking for work
NEW DELHI: Migrant workers have started returning to Delhi after the unlocking process began in the capital. "If the company starts, jobs will be available," said a migrant worker in Sitapur. pic.twitter.com/hBwFlRc1T3

– ANI_Hindinews (@ahamedainnews) June 4, 2021
According to news agency ANI, migrant workers have started returning to Delhi. Everyone is citing the declining number of infected people in the capital as the reason for the return. He said the cases have now come down a lot and more relaxation is expected from the government soon.
Workers say coroner cases have dropped, so they have returned to Delhi for employment. Let us know that 4,487 new cases of COID-19 were reported in Delhi on Thursday and another 45 patients died. This is the lowest number of infections in the national capital in the last two and a half months. At the same time, the infection rate dropped to 0.61 percent.