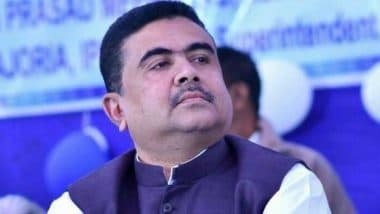 Shuvendu Adhikari (Photo Credit: Twitter)
New Delhi: On Tuesday, Leader of Opposition in the West Bengal Assembly and BJP MLA Shuvendu Adhikari met Union Home Minister Amit Shah and party president JP Naddar to discuss various issues related to the state, including post-election violence. Adhikari was a minister in the previous Mamata Banerjee-led West Bengal government, but she joined the BJP just before the state assembly elections this year. The official met the top BJP leadership for the first time since becoming the Leader of the Opposition in the state assembly.
He also met Union Minister Mansukh Mandavia and party general secretary Bhupendra Yadav. Shah's office tweeted, sharing a picture of the home minister and West Bengal leader, "Shuvendu Adhikari G met Union Home Minister Amit Shah Zia. Opposition leader in West Bengal tweeted that he had discussed several issues related to the state with Shah and asked for his blessings on the welfare of Bengal." . Read more: West Bengal: Trinamool Congress goons are killing, panic is everywhere: Dilip Ghosh
He said, "Hon'ble Home Minister assured that he will always be available for Bengal. In the Assembly elections held in West Bengal in March-April this year, he defeated Trinamool Congress chief and state chief minister Mamata Banerjee in a tough contest in Nandigram constituency. And discussed various issues including political violence in West Bengal.
After the meeting with Nadda, the official told reporters that the situation in West Bengal was dire as BJP workers in the state were constantly receiving threats. He said the saffron team stood firm with his staff and would do its best to protect them. Officials are expected to meet Prime Minister Narendra Modi on Wednesday.
Notably, the Trinamool leader was angry at the presence of officers at the Modi-Mamata Banerjee meeting to review the damage caused by Cyclone Yas. A few days later, officials are meeting top BJP leaders. According to sources, Mamata Banerjee arrived at the meeting late after giving a report on the damage caused by the cyclone.
(This is a monitored and automatically generated story from a syndicated news feed, probably not edited or edited by the latest staff)