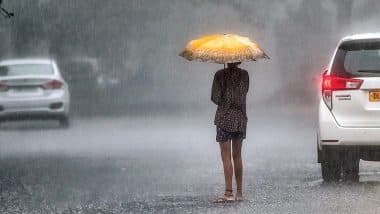 Rain | Symbolic Image (Photo Credit – PTI)
New Delhi, June 1. On Tuesday, the national capital recorded a minimum temperature of 17 degrees Celsius, 10 degrees below normal. This is the lowest temperature ever recorded in June. The Meteorological Department (IMD) said that the maximum temperature recorded in Delhi was 33.6 degrees Celsius, which is seven degrees below normal. Kuldeep Srivastava, head of the IMD's regional forecasting center, said Delhi had recorded the lowest temperature in June on Tuesday due to rain, thunderstorms and strong winds due to western disturbances. Earlier, on June 17, 2006, the minimum temperature in the national capital was recorded at 18 degrees Celsius. ALSO READ- Meteorological Update: IMD has talked big about monsoon, there may be more rain than usual in North India and South India.
The city received 15.6 mm of rain in the last 24 hours ending at 8:30 am on Tuesday. The Meteorological Department forecast light rain and gale force winds on Wednesday. The average maximum temperature recorded in Delhi in May was 3 37.5 degrees Celsius, the lowest in 13 years this month.
The IMD said that for the first time since 2014, the Safdarjung Observatory did not record a heatwave during the pre-monsoon period. Srivastava said the mercury was first under control due to unrest in the west and later there was a 'record' rain due to a cyclone break. He said it was the first time since 2011 that the Palm Observatory had not recorded the speed of heat waves during the pre-monsoon period.