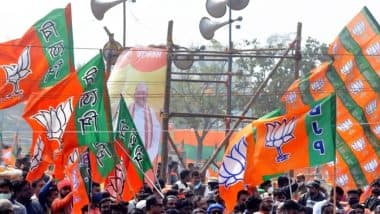 BJP (Photo credit: PTI)
New Delhi, June 8: On Tuesday, the BJP announced candidates for various posts in three municipal corporations in Delhi. The BJP has a majority in three municipalities. BJP state president Aadesh Gupta has released the list of candidates. Raja Iqbal Singh, Mukesh Suryayan and Shyam Sundar Agarwal have been nominated as mayors of North, South and East Delhi respectively. Elections for various posts in the three municipal corporations will be held on June 1. The last date for submission of nominations is June 8.
BJP has nominated Archana Dilip Singh as Deputy Mayor, Jogiram Jain as Speaker, (Standing Committee), Vijay Kumar Bhagat as Vice President (Standing Committee) and Chail Bihari Giswami as Leader of North Delhi Municipal Corporation (NDMC) House. On behalf of the South Delhi Municipal Corporation (SDMC), the House has nominated Pawan Sharma as Deputy Mayor, Col (retd) BK Oberoi as Speaker, (Standing Committee), Poonam Bhati as Vice-Chairman, (Standing Committee) and Leader Indrajith Sehrawat. At the same time, East Delhi Municipal Corporation (EDMC) has nominated Kiran Baidh as Deputy Mayor, Birsingh Pawar as Speaker (Standing Committee), Deepak Malhotra as Vice President (Standing Committee) and Satyapal Singh. The position of House Leader. Read more: Large number of shoppers seen after opening liquor store in Puducherry from today
The opposition Aam Aadmi Party and the Congress have very few seats and they are not threatening the BJP candidates. Election dates may be changed depending on the circumstances arising out of the lockdown involved in preventing the spread of coronavirus infection. Covid-19 also delayed last year's mayoral election. Elections for these posts are being held for the last time before the current term of the civil society organization expires in 2022.