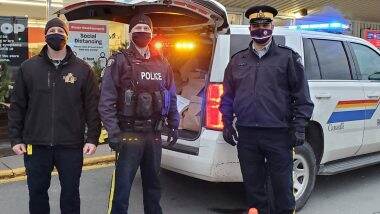 Canadian Police (Photo Credit: Facebook)
Ontario, June 8: It is alleged that the driver targeted the family to become Muslims. The incident happened on Sunday evening. The dead included a 74-year-old woman, a 46-year-old man, a 44-year-old woman and a 15-year-old girl, Ontario police said. A nine-year-old child has been admitted to hospital in critical condition. The family requested anonymity. The accused has been arrested and four people have been charged with murder.
The suspect, Nathaniel Weltman, 20, is a resident of London, Ontario, and did not know the victims, police said. Police said the car turned around and trampled on the victims. Police said the suspect was arrested from the parking area of ​​a nearby mall. Read more: Orissa: Three arrested with Rs 1 crore worth of brown sugar in Cuttack, police seize a car, a motorcycle and four mobile phones
In Ontario, 20 young men accused of killing four members of a Canadian Muslim family in a pickup truck and running away were targeted in a hate attack, police said.

Condemning the attack, Prime Minister Trudeau said "we will use every means to fight Islamophobia

(Source: Reuters) pic.twitter.com/dUGaWvFRxD

– ANI (@ANI) June 8, 2021
London Police Chief Stephen Williams said: "We believe the victims were targeted because they are Muslims. If any community is targeted with a sense of hatred, there could be fear and panic, especially among Muslims.