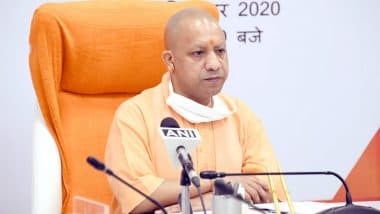 CM Yogi Adityanath (Photo Credit: PTI)
Lucknow: Uttar Pradesh Chief Minister Yogi Adityanath (Yogi Adityanath) is overseeing the corona infection situation in the state. CM Yogi's policies are surprising given that corona in UP has been greatly reduced in a short period of time. CM Yogi is regularly touring the most affected districts of the state. In this episode, CM Yogi reached Noida on Sunday morning. There he oversaw the immunization camp set up for the media. He then held a meeting with public representatives and officials at the NTPC in Sector 1. After that, the Chief Minister gave information related to Corona in a speech at a press conference. UP Lockdown: Corona curfew in UP has been extended till May 24, Yogi government will also provide rations and cash to the poor.
CM Yogi said corona cases in the state have come down drastically. The infection rate has dropped from 22 percent to 5 percent. CM Yogi said that war is going on to protect Corona from the villages. The CM said the villagers were avoiding corona testing. So test teams are being sent to villages. A rapid response team has been formed in the state and the team is visiting villages and testing people.
Chief Minister Yogi Adityanath said the possibility of a third wave of corona is being revealed. To prevent this, the state government has already started formulating its action plan. Measures are being taken in each district for this. At the same time, vaccination is moving fast.
Forming a team to deal with 'black fungus'
In view of the increase in the number of 'black fungus' patients in Uttar Pradesh, Chief Minister Yogi Adityanath has directed to ensure effective measures for rescue and treatment. At the same time, to overcome its challenges, the government has formed a 12-member Mucormosis Management Team at the Sanjay Gandhi Institute of Medical Sciences.
The Chief Minister directed that adequate availability of medicines required for the treatment of black fungus should be ensured in all the districts. He said that the causes, prevention and treatment of 'black fungus' should be widely publicized.
Corona's speed slowed
The coronavirus has begun to slow down a bit. In the last 24 hours, 2,56,755 people were tested for the coronavirus at the UN. Of these, 12,547 people have been infected. During this time, 26,404 people became infected. 281 people have died in the last 24 hours in the state. The state now has 1,77,643 active cases.