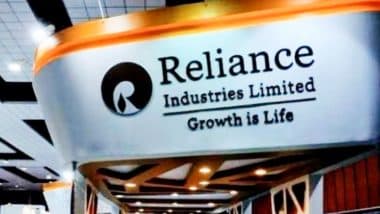 Reliance Industries (Photo credit: IANS)
New Delhi, 30 May The market capitalization (MCAP) of eight of the 10 most valuable companies in the country stood at Rs 1,39,566.52 crore last week. Reliance Industries, TCS and Infosys were the biggest gainers. The BSE Sensex rose 882.40 points, or 1.74 percent, on a weekly basis. In the week ended Friday, only two companies – Hindustan Unilever and Bajaj Finance – registered market capitalization declines. Among the for-profit companies, Reliance Industries jumped 59,590.77 points to Rs 13,28,049.94 crore.
Tata Consultancy Services 'MCAP rose by Rs 23,562.96 crore to Rs 11,63,018.74 crore, while Infosys' market capitalization rose by Rs 21,395.27 crore to Rs 5,98,604.10 crore. Public sector State Bank of India (SBI) has increased its market capitalization by Tk 18,6977.06 crore to Tk 3,7676,6632.23 crore. At the same time, Kotak Mahindra Bank's MCAP increased by Rs 8,435.06 crore to Rs 3,56,849.67 crore.
HDFC Bank's market capitalization rose by Rs 4,555.41 crore to Rs 4,58,418.62 crore and HDFC Bank's MCAP rose by Rs 2,721.71 crore to Rs 8,28,341.24 crore.
Also read- Important Information | The Tata Group has acquired a majority stake in the Big Basket
ICICI Bank's market capitalization rose by Tk 808.28 crore to Rs 4,5,111.34 crore in the week under review. On the other hand, Hindustan Unilever's M-cap fell by Rs 8,904.94 crore to Rs 5,45,762.50 crore and Bajaj Finance's by Rs 1,282.63 crore to Rs 3,38,589.27 crore.
Reliance Industries was the most valuable company in the country. It is followed by Tata Consultancy Services, HDFC Bank, Infosys, Hindustan Unilever, HDFC, ICCI Bank, State Bank of India, Kotak Mahindra Bank and Bajaj Finance.
(This is a monitored and automatically generated story from a syndicated news feed, probably not edited or edited by the latest staff)