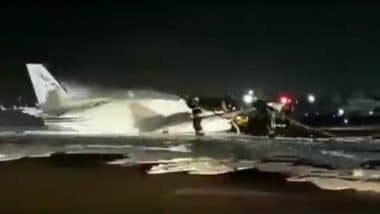 Mumbai Air Ambulance Emergency Landing (Photo Credit: ANI)
Mumbai, May: An air ambulance that left Nagpur (Nagpur) for Hyderabad (Hyderabad) on Thursday made an emergency landing in the financial capital Mumbai (Mumbai) on Thursday. It is said that this was done due to a technical error in the air ambulance. According to the report, a tire of the air ambulance was somehow detached during take-off. Which is why this incident happened.
At the same time, after the incident, the crew confirmed that the pilots landed in the abdomen of the air ambulance without using the landing gear. Explain that abdominal landing occurs when an aircraft lands without its landing gear and uses the abdomen below or as the main landing device.
The air ambulance entered safely #Mambai Report after losing tires during takeoff @ Hinagambhir Register pic.twitter.com/dDsW6vhluT

– Sanjay Jha (@ Jhansanjay 07) May 6, 2021
ALSO READ-MAHARASHTRA: Husband kills wife in Mumbai's Kurar area, accused arrested
After the incident, a user named Sanjay Jha shared a video of the air ambulance on social media. In this video, it is seen that the security personnel present at the airport are protecting themselves from the fire by raining water as soon as the plane gets into the ambulance. According to the latest information, patients, doctors and crew are all safe in this accident.