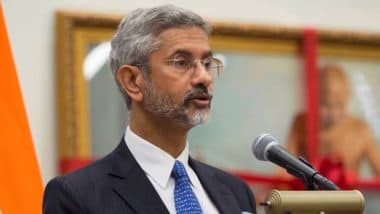 External Affairs Minister S Jaishankar (Photo credit: IANS)
Washington, May 27: Foreign Minister S Jayashankar arrived in Washington DC on Wednesday, where he will hold meetings with top officials in the administration of US President Joe Biden. In the meantime, Biden is expected to review the progress of bilateral relations in the first 100 days of the Biden administration and lay the groundwork for Biden's remaining term. During his three-day visit to Washington DC, Jayashankar, 66, will meet with his American counterpart Tony Blinken, Secretary of Defense Lloyd Austin, National Security Adviser Jake Sullivan and key members of the Biden administration.
"As part of India's first cabinet-level visit to Washington, the defense minister will meet Indian foreign minister Jayashankar on Friday," Pentagon press secretary John Kirby told a news conference. During the meeting, the two leaders will take forward the talks held in New Delhi in March and will insist on maintaining strong bilateral defense and security ties between the two countries. We are glad that his Pentagon came and talked to him. '
Also read- Foreign News. India cannot tolerate terrorism: Jayashankar
The foreign ministry has not yet announced the timing of the meeting between Blinken and Jayashankar at Foggy Bottom's headquarters. Blinken is currently traveling to West Asia to advance the peace process. A Foreign Ministry spokesman said the two leaders would discuss a range of issues, including strengthening Indo-Pacific cooperation through quads, enhancing cooperation with the United Nations and multilateral cooperation.
Jayashankar will also speak to industry people on Thursday, including sessions hosted by the US India Business Council and the US India Strategic and Partnership Forum. Jayashankar, who served as India's ambassador to the United States from December 2013 to January 2015, will also meet several prominent US lawmakers.
Also read- Foreign News. Jayashankar tells UN Secretary-General, urges world to find vaccine solution
Meanwhile, Brad Sherman, co-chairman of the India Caucus, said he was thrilled to meet Jaishankar, Indian Ambassador to the US Taranjit Singh Sandhu and other leaders on US-India relations at dinner on Wednesday.
(This is a monitored and auto-generated story from a syndicated news feed, most likely not modified or edited by the latest staff)