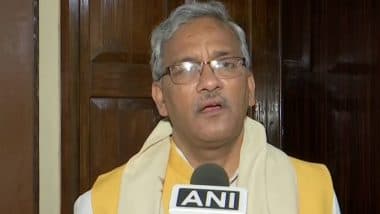 CM Tribendra Singh Rawat (Photo Credit-ANI)
At a time when the whole world is fighting to get rid of the Kovid epidemic, former Uttarakhand Chief Minister Trivendra Singh Rawat has said that the virus is a living creature and a video statement of worthy Rawat went viral on social media. Creatures, so he also has the right to survive. Opposition leaders called for a halt to the protests. Who not only described his speech as 'sensitive', but also as 'stupid'. Uttarakhand: Former Chief Minister of Uttarakhand Trivendra Singh Rawat has compared himself to Abhimanyu.
"If we look at it from a philosophical point of view, the coronavirus is a living creature like us. We (humans) consider ourselves the most intelligent, but this creature also wants to live," Rawat said. And it deserves to survive.
"Therefore, we need to keep our distance from it now. It's growing and we're moving forward, but we need to move faster so that it falls behind."
After being trolled on social media, the Congress has stepped up its attack to criticize Rawat. The BJP leader's remarks come at a time when India is in its worst phase of the second phase of Kovid-19, with India recording 3333,444 new cases and 4,000 deaths in the last 24 hours.
Uttarakhand Congress vice-president Suryakanta Dhasman said, "Rawat, who was the chief minister of the state, said nothing but stupid and nonsense. He has lost his mind and no vision."
"The virus is a living creature, so were Ravana, Kangsa and Mahisasura But they all killed different gods because they destroyed the world as if millions of people died Raw Rawat is just horrible.
AAP Uttarakhand spokesperson Amarjit Singh Rana said Rawat's remarks reflected his understanding. "It shows the understanding between him and the BJP leader. They are making Uttarakhand a laughing stock," Rana said.
Rawat has not yet clarified his comments. The BJP's retaliation was for a fierce attack by the opposition, blaming the Congress and the AAP instead of working for humanity in the epidemic.
The former chief minister did not make any bizarre remarks for the first time, he shocked people in 2019 when he claimed that cows are the only animals that take in and give off oxygen.