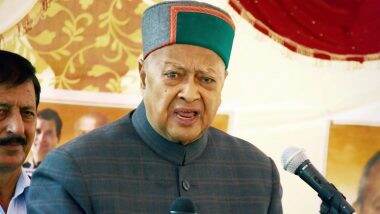 Birbhadra Singh (Photo credit: Facebook)
Shimla, June 11: Former Himachal Pradesh chief minister Birbhadra Singh has contracted the corona virus for the second time in two months. A health official said this on Friday. Earlier, an April 12 transition was confirmed by an investigation by a senior Congress leader.
Special Secretary (Health) Nipun Jindal said Sim Shimla is undergoing treatment at Indira Gandhi Medical College and his condition is stable. Singh () 86) has been a nine-time MLA and five-time Member of Parliament and has been the Chief Minister of Himachal Pradesh six times. He is currently the MLA from Arki in Solan district.
Read more: Class XII board exams canceled in Himachal Pradesh, corona curfew extended till June 14
He was admitted to a hospital in Chandigarh after contracting the virus for the first time. After recovering from Covid-19, he returned home on April 30 at Holy Lodge here. However, a few hours after reaching home, he was admitted to IGMC after complaining of shortness of breath and has been undergoing treatment ever since.