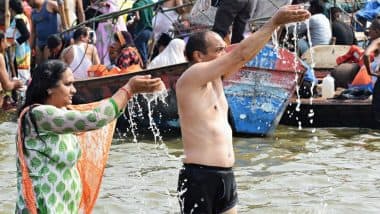 Photo Credit: Pixabay
According to Hindu scriptures, Ganga Saptami is celebrated on the seventh day of Baishakh Shuklapaksh. This is very important in Hinduism. According to the mythology, on this day mother Ganga was immersed in Shiva's journey from heaven. On this day mother Ganga is worshiped at the end of Ganga Puja. By doing this, all the desires of the person are fulfilled. According to the Padma Purana, the month of Baishakh is considered to be the month dedicated to Srihari, Lord Vishnu. Therefore, this month Lord Vishnu is worshiped in the Shodashopachar method. This year, Ganga Saptami is being celebrated on 18 May 2021, Tuesday. Read more- The greatness of the month of Baishakh! Why is it important to donate water this month? Find out what to do and what not to do this month!
The greatness of Ganga Saptami
According to astrology, on the seventh day of the Ganges, by immersing oneself in the river Ganges, all human sins are washed away and one is liberated. If seen, bathing in the Ganges has a different significance. On this day special worship is done in Ganga temple. According to the Shiva Purana, bathing in the Ganges brings liberation from all sins. After bathing in the Ganges, one should do sadaqa and sadaqa. According to the scriptures, bathing in the life-giving Ganges, the vision of Narmada Zia and the mere remembrance of Mokshadayini Shipra are liberated. But bathing in the Ganges is not possible due to the lethality and lockdown of the second wave of Kovid 19. In such a situation, only sitting at home, only remembering and worshiping Mother Ganga, one gets the blessings of Mother Ganga. The birth anniversary of Lord Chitragupta is also celebrated on the seventh day of the bright fortnight of the month of Baishakh. Thus, this day has been considered as extremely important religiously.
Ganga Saptami is auspicious time
Ganga Saptami starts: 12.32 pm (18 May 2021)
Ganga Saptami ends: 12.50 pm (19 May 2021)
Worship of Ganga Saptami!
In Hinduism, Mother Ganga is also considered as Papanashini and Mokshadayani. For this reason, bathing in the Ganges on the day of Ganga Saptami has special significance, but it is not safe to bathe in the river Ganga as there is a lockdown during the transition period of the Corona. In such a situation, after bathing, sprinkle a few drops of Ganga water on yourself. Then install the idol of Goddess Ganga in the temple of the house. If the idol of Goddess Ganga is not found, light a sun-lamp in front of the idol or image of Shiva. Now give sweets, sandalwood and white flowers to Shiva. While worshiping, chant this sacred mantra of Mother Ganga 'Om Namo Bhagwati Parbatya Mili Mili Ganga Ma Pave Pave Swaha'. Pray to Gangaji and Shiva Shiva after Pujo. Next, donate clothes and food to a poor person.