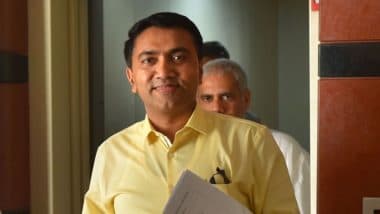 Goa CM Promod Sawant (Photo credit: Twitter)
Panji, May 21: The Goa cabinet on Friday decided to extend the curfew imposed in the state till May 31. The information was given by Chief Minister Promod Sawant after the state cabinet meeting. "We are extending the state curfew until May 31. The rules will continue as they were," Sawant said.
Sawant announced a state-level curfew in Goa from May 9 to May 23, amid a massive increase in the number of Kovid cases in the state.
Items, grocery stores, liquor stores are allowed to be open during the curfew period from 7 am to 1 pm, while medical stores and restaurants are allowed to operate in the kitchen curfew period from 7 am to 7 pm.