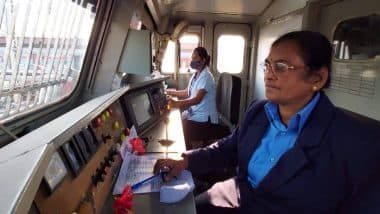 Sureka Yadav ((Credit: Twitter))
It is said that courage and hard work can lead to world victory. Sureka from Satara district of Maharashtra also conquered the world. A world where only men were responsible for running trains on trains. A world where men were exclusive to running trains. Surekha became the world's first loco pilot. Many will be surprised to see Sureka sitting in the driver's seat of the train. But Surkha's smile and confidence have created a ray of hope among thousands of women. Come on, let us tell you the stories of Surkha Yadav, India's first female train driver.
Born in Satara, Maharashtra, Diploma in Engineering
Sureka Yadav was born in 1965 in Satara district of Maharashtra. His father's name was Ramchandra Bhonsle and his mother's name was Sonabai. He is the eldest of five siblings. He has completed primary education in the district. Even after the time for further study came, Surkha's choice surprised everyone. In the eighties, engineering was mostly taught by boys. However, Sureka decided that he would also pursue a diploma in electrical engineering. She has set an example for other girls by choosing this subject. After finishing his diploma, Sureka started trying for a job.
This is how the path of the loco pilot was decided
One day after finishing his studies, Surekha saw the notice of appointment of Loco Pilot. He appealed. When he arrived at the entrance examination hall to take the test, he was surprised. Not only Surkha but also the moderator of the examination and the rest of the candidates. Surkha's surprise was that she was the only female candidate in the examination hall. You can probably guess why other people are wondering. Sureka said he did not know that no woman had been selected for the job so far. Sureka Yadav did not know that he was going to make history. Surkha was selected after passing various stages of the examination. Read more: NGT seeks report from Maharashtra Pollution Control Board on environmental violations
This is how India got its first female train driver
Sureka, who was selected in the examination, has completed six months of training. He was later promoted to assistant driver in 1989. Thus Surena Yadav became the first woman in India to run a train. He has worked in Railways for 29 years. Drives everything from local trains to trains and freight trains. In 1999, he became the driver of a freight train and in 2011 he became the driver of an express train. During his tenure in the Indian Railways, he performed every duty very well. He also played the role of an instructor at the Indian Railways Training Center.
In 2011, the first female driver in Asia was awarded
On Women's Day 2011, Surkha Yadav was given the biggest gift of her life. On this day, she was named the first female driver in Asia. Sureka was driving on the CST route from Deccan Queen in Pune. This is considered the most dangerous route. Sureka received this honor after running the train on this track. Although Sureka was awarded the title, it was not only her honor, it was an invitation to fulfill the dreams of thousands of women. It was a call to women to have the courage to do what they want to do. This type of work field is only for men and do not stop their steps. It is inspired by the life journey of Surekha Yadav.