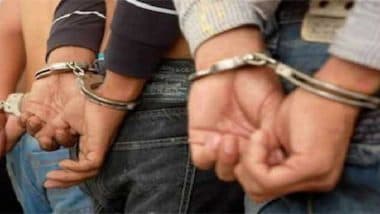 Arrest / Symbolic Photo (Photo Credit: Facebook)
Ahmedabad: It has been alleged that 11 people attacked a Dalit due to having a long mustache on the Biramgam list in Ahmedabad, Gujarat. So far three people have been arrested in the incident. On Monday, Deputy Superintendent of Police DS Bass said Scheduled Caste Suresh Baghela had complained that he was attacked by 11 other backward classes due to having a long mustache. "Baghela is undergoing treatment at the hospital. We have arrested three people so far," Bass said.
According to the tiger's FIR, on Sunday a group of people led by Dham Tagore arrived outside his house in the village of Kartakal and they all racistly tortured him for having long mustaches. Read more: Dalit killings by people 'involved' in celebration of Gujarat citizen election victory
It is alleged that the assailants attacked the tiger with sharp weapons and sticks. Baghela's sister was also injured in the attack.