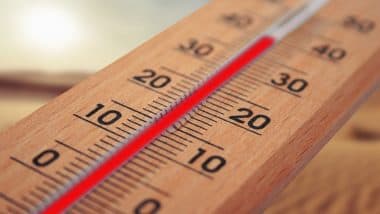 Wed | Symbolic image (Photo: Pixabay)
Jaipur, May 29: The heat wave continued on Saturday in many parts of Rajasthan, with Ganganagar recording a maximum daytime temperature of 46.3 degrees Celsius. Ganganagar also had a low of 31.6 degrees Celsius. According to the Meteorological Department, it is not expected that people will be released from the heat in the coming days. The department has issued a heatstroke warning for the intense hot winds. Rajasthan in the grip of scorching heat, Lu warns.
According to the Meteorological Department, the maximum temperature on Saturday was 4 46.3 degrees in Ganganagar, 4 46.1 degrees in Churu, 44.6 degrees in Bikonar, 44.4 degrees in Phalodi, 44.7 degrees in Pali and 44.3 degrees in Polly. Madhopur recorded 43.5 degrees Celsius, Burma 43.3 degrees Celsius, it 42.5 degrees Celsius, Jaipur 42.2 degrees Celsius and Jodhpur 42.1 degrees Celsius.
At the same time, the mercury in Chittorgarh, Alwar, Banasthali and Jaisalmer was also around 40 degrees. The department says that at present there is a transport system in Punjab and its adjoining areas which extends up to one and a half kilometers from the surface. Due to the effect of this system, heat wave is likely in Churu, Hanumangarh and Ganganagar districts as well as Bikaner, Sikar, Jhunjhunu, Nagaur, Jodhpur and Jaisalmer districts in the next 48 hours.
According to the Meteorological Department, the maximum temperature is expected to be between 42-44 degrees Celsius in most parts of the state. According to department sources, due to the new western disturbances on May 31, the intensity of the storm is expected to increase in some districts of Bikaner, Jaipur and Bharatpur divisions.
(This is a monitored and automatically generated story from a syndicated news feed, probably not edited or edited by the latest staff)