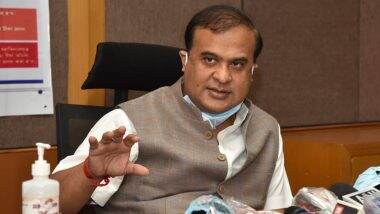 Assam's new CM Himanta Bishwa Sarma (Photo Credit Facebook)
Guwahati: Himanta Bishwa Sarma (Himanta Bishwa Sarma), the BJP's chief strategist and senior leader of the northeastern state party, will be the next chief minister of Assam. After winning the Saffron Party for the second time in a row in Assam on Sunday, he was elected leader of the Legislative Party by newly elected MLAs on behalf of the party. Sarma was elected leader of the BJP Legislative Assembly in a meeting of the Assam Legislative Assembly, which was attended by outgoing Chief Minister Sarbananda Sonwal and four central observers of the party. Himanta Bishwa Sarma will be sworn in as the Prime Minister tomorrow after being elected as the leader of the Legislative Party.
The swearing-in ceremony was held at noon. At the palace, Himanta Bishwa Sarma will be sworn in as the Governor of Assam by Jagadish Mukhi (Governor Jagadish Mukhi). At the same time, the ministers joining their government will also be sworn in tomorrow. Outgoing Chief Minister Sarbananda Sonowal's cabinet may include many new faces as well, according to reports. Read more: Assam: Himanta Bishwa Sarma becomes new CM of Assam, BJP legislature party decides
Assam's new cabinet to be sworn in tomorrow at 12 noon: State BJP legislature party leader Himanta Bishwa Sarma https://t.co/j01KcQacIb pic.twitter.com/md7FstzTgg

– ANI (@ANI) May 9, 2121
Himanta Biswas has won the Jalkubari assembly seat for the fifth time in a row since 2001. Before the BJP, Himanta Biswas was in the Congress party. However, before the 2016 assembly elections, he left the Congress and joined the BJP. After joining the BJP, he was given important posts in the previous government as well as was made a minister. This time he is being elected as the Chief Minister with a big responsibility of the state.
The Bharatiya Janata Party won 60 seats in the 126-member assembly in Assam, with its ally Assam Gono Parishad (AGP) winning nine seats and the new ally United People's Party Liberal (UPL) winning six seats. The rest of the candidates won the election with the rest of the other parties. (Including input agency)