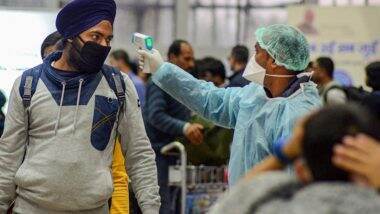 Corona Defeat (Photo Credit: PTI)
Johannesburg, May 9: Many Hindu organizations are raising funds in South Africa to help India, which is badly affected by the coronavirus. BAPS (Bochawanshi Akshar Purushottam Swaminarayan Sangstha) is a charitable organization affiliated with Swaminarayan South Africa working closely with its affiliates to deliver initial shipments of 123 Oxygen Concentrators to Uganda, Kenya, UAE and UK India.
A representative of BAPS Charities South Africa said that various organizations affiliated with the organization had raised various funds and shipments of oxygen concentrators had been sent through East African countries. "We have promised to send at least a hundred more concentrators directly from here, for which we are working closely with the relevant authorities in South Africa," he said. Read more: Maharashtra: 686 killed in 1,96666 new cases of Kovid-19
In India, BAPS Charities India is overseeing our shipments. He has a working relationship with the Indian authorities. "Apart from these, the South African Hindu Mahasabha is planning to send 100 such oxygen concentrators to India, which can be used by two patients at the same time.