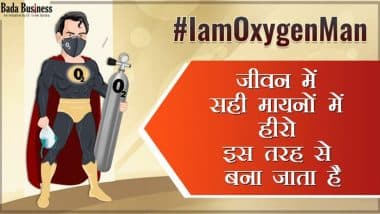 I am Oxygen Man You too become a superhero
# I'm Oxygenman: Indian Adtech startup Bada Business, known for its most affordable entrepreneurial training program in the world, is going to organize a fundraising campaign – May 20, 2121 (Sunday) at 4pm #ImOxygenOneman. It is managed by Dr. Vivek Bindra, the founder and CEO of Bada Business. Dr. Bindra will be the host of the event as well as co-chair of the famous Bollywood actor Vivek Oberoi. The objective of this program is to raise Rs. 5 crore for providing better health care to the needy people.
The big business is hosting a fundraising event on the YouTube channel on the evening of May 16, 2021, so that there is no problem for the needy to get treatment and Kovid patients can easily get good and free treatment. Whose name is fundraising event I I Oxygen Man.
Come to war with Corona
Many big people of the country will attend this event. Those who are not only arrogant in their case, also have their own recognition in society. The event was attended by HH Gopal Krishna Goswami, Kailash Kher, Sonu Nigam, Dalal Mehndi, Mika Singh, Sunil Grover, Raju Srivastava, Acharya Balakrishna, Hema Malini, Manoj Munather, Madhav, Roni Screwala, Ashish Alfane, Ashish Chauhan There will be many more celebrities like Ford, Prahlad Kakkar, RS Sodhi, Ritesh Agarwal and Sanjeev Kapoor.
The big business behind this campaign and Dr. Vivek Bindra's aim is to unite the country in times of crisis. Dr. Bindra urges everyone to support so that this epidemic can be defeated as soon as possible so that every person in the country can get treatment. Big business believes that the savior of one's life is the hero of truth. By joining this mission everyone from working people to businessmen and student housewives can save someone's life and become a superhero.