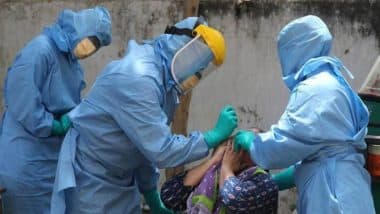 Photo credit: Twitter
Thiruvananthapuram: Keronavirus (Kerala) does not seem to be the cause of the disaster in Kerala. A maximum of 43,529 corona cases were recorded in the state on Wednesday. A total of 1,46,320 samples were tested in the last 24 hours, of which 43,529 new positive cases were found, Chief Minister Pinarayi Bijayan said on Wednesday. Maharashtra has stopped vaccinating 18-44 year olds due to shortage of vaccines
This is the highest number of corona in a single day since the onset of the epidemic. The positive rate of examinations in the state is 29.75 per cent, while the number of active cases has now reached 4,32,780. Vijayan said reports of 34,600 people on the day also came negative, after which the total number of recovery people in the state rose to 15,71,738.
In the state, 95 people died due to the infection in the last 24 hours, after which the total number of people who lost their lives to corona reached 6,053. Anarkalam district has the highest number of active cases at 67 Th, 160 and Thrissur currently has 54,544 cases. There are currently 740 hotspots in the state.
Police on Wednesday filed more than 15,000 cases against Kovid violators and recovered Rs 34.50 lakh as punishment.
Vijayan further stressed that Eid-ul-Fitr will be celebrated in the state on Thursday, so all Muslim brothers are requested to ensure that no celebration is held considering the current dire situation. Also all prayers should be conducted in their home.
He said that in the case of vaccine supply, the state has repeatedly requested the center to provide the vaccine to those above 45 years of age as soon as possible. "The population at this age is about 1.13 crore and for this we need 2.2 crore doses," Vijayan said. We want to deliver as soon as possible as it is a way to keep mortality to a minimum.