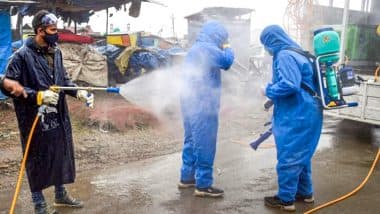 Corona She Jung (Photo Credit: PTI)
Roy Bareli: Corona second wave (COVID-19) Uttar Pradesh There are disasters in the rural areas of Uttar Pradesh. Corona's anger is being expressed in many villages of the state. The rate of corona infection is also increasing rapidly in Rae Bareli. SDM Anshika and DSP Anjani have taken the front in view of the impact of corona infection. Coronation symptoms like cold and fever have started in many villages and many people are getting news of shortness of breath. The growing infection in the village has left the administration in a state of anxiety.
Meanwhile, now the health department team has started the work of sanitation and coronary examination in the infected villages and supply of medicines in large quantities to the villagers. The team from the health department along with the officials is also sensitizing the villagers, showing ways to prevent from Karona.
Further terror of Karbona infection is seen in Sultanpur Kheda of Gurkshakganj police station area. There have been a dozen and a half deaths here in the last one month. There is an atmosphere of panic among the villagers due to these deaths. The death toll has shifted from the district administration. In the midst of all this, a team from the health department was sent to the village under the supervision of District Magistrate Anshika Dixit and Police Officer Dr Anjani Chaturvedi and sanitation work was carried out in the entire village.
Corona testing in the village has also been increased. The health team is making people aware. Those with corona symptoms were advised to use caution with medication. Officers also went from house to house with the women to warn Corona and advise caution.